A little while ago I had the pleasure to attend a media event featuring
Dyson
and boy was I blown away. I've seen the commercials of course, but never had the opportunity to get my hands on it.
I've heard nothing but good things about
Dyson
, but I like to always maintain a healthy skepticism, after all we've all been fooled before! Well, after experiencing
Dyson
myself let's just say I've seen the light! And the suction! What a difference compared to my regular vacuum cleaner.
What's different?
Well the non-stop suction is pretty awesome and it gives a great deep clean. I think the air quality is even better in my home.
As you can probably imagine, with a little one at home, living in the city in a "skyscraper," as my son likes to call it, dust, dirt, sand from the park, and gosh knows what else gets into the apartment and it can get pretty darn messy pretty darn quick. Oh, did I mention we also we have a cat?
I love the
no wheels
and
no bag
thing. I hated changing the bag with our old vacuum. Now I just lift the compartment out and one easy click the bottom releases the dirt and pet hair in the garbage. It's clear so I can see when it's reached the max.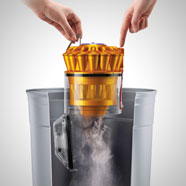 photo courtesy of dyson
I loved the easy maneuvering as well. NO MORE AWKWARD moves. You know when you're vacuuming and you go around the corner and it tips? I've always used canister vacuums and that always happened with me. They always seemed sluggish and I'd have to be tugging at it all the time. My Dyson it just follows me ever so nicely.
So which Dyson product am I speaking of? This
one
!
You know what's super cool? The brush is powered by air instead of a motor! Therefore it's nice and light for those with bad backs or for the expecting moms that are nesting. I cleaned like crazy when I was pregnant. I wish I'd had a Dyson. Once you start a family, it would be a great idea to add one to your baby registry.
It also comes with a grooming tool. Hello dog lovers, this is the vacuum for you.
The
Dyson DC37 Turbinehead Animal
captures allergens during grooming and provides mess-free, vacuum-assisted dog grooming for medium and long-haired dogs.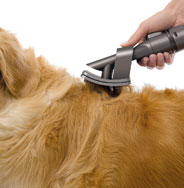 My husband has cat allergies. And, come to think of it, he also has seasonal allergies that are exacerbated by the cat. Since Dyson has come into our home he honestly has no symptoms this season! And this has been a particularly rough spring for pollen. I have noticed a difference in air quality, so it is possible. And it's
certified by Dyson
. Dyson vacuums capture those microscopic allergens!
There is something for Dad with this post. If your dad or husband has his "man cave" or works in the garage a lot, I think this the
Dyson Multi Floor
($349.99) would make a lovely Fathers Day gift. It's cordless(great for cleaning the car), works on all types of floors, is lightweight, detachable and falls right into the ever popular 'gadget and high tech item' category. Men love that stuff!
It's one the hottest gifts this weekend to give.
D35 Dyson Multi Floor
But with this post I also have something exclusive to give to one lucky fan of Everything Mom and Baby.
I want you to enter to win a Dyson 37 of your very own. The
D37 Turbinhead Animal Vacuum cleaner
is what I picked to giveaway. I hope you like it! So how do you enter?
Well it's easy. Click on
Read Mor
e or t
he blog title
of this post and you can fill out the Rafflecopter.
~ Please note this giveaway is open to Canadians only ~
a Rafflecopter giveaway